KITCHEN AND BATHROOM
RENOVATIONS
IS IT TIME FOR A CHANGE? READY FOR A NEW KITCHEN
Your kitchen is where life happens. Your kitchen can be the highlight, a place that brings family and friends together. Whether it feels outdated, too small or it just doesn't flow right Sightline Builders will turn your kitchen into a fully functional and stunning masterpiece. Before moving forward, there are several things to take into consideration. Cabinet styles, countertops, and backsplashes come together to create a look and feel of the space. Appliances come in several styles, sink and faucet choices are plentiful, and flooring can be wood, tile or something else completely. Will there be a peninsula in the kitchen, separating the kitchen from another room? Or is a kitchen island in the middle of an open floor plan more desirable? Sightline Builders will help guide you through these steps. Contact us today to share your ideas and let Sightline Builders help you create the space you have always wanted.
STICK TO YOUR THEME
With so many stunning kitchen trends, it's important to be mindful when incorporating them into your home. Choose a trend or two that fit your interior style. The look and feel must correlate with your current design for balance and harmony.
THINK FUTURE FORWARD
Trends are moving toward sleeker and smarter kitchens. So, when you feel unsure, pick cordless, handle-less, or touch to open style designs. These are likely to stick around for a long while as smart technology integrates with everyday living.
KITCHEN STYLE
Explore your options by seeking out the style that sets balance and harmony in your home. Whether it is contemporary, traditional, mid-century, beach house, boho chic or rustic, determine what inspires and resonates with you. A straightforward design with clean lines, sustainability and functionality seems to be fundamental characteristics of a quality design.
KITCHEN TILES
Tile is a great option in the kitchen. As a versatile flooring option, tile floors can look rustic or cutting edge and can be installed in virtually any pattern. While the kitchen backsplash is the element to experiment with in home decor: glass, ceramic tiles, etc. – of different shapes and texture that can give it the pop of color or character.
COUNTERTOPS
When compiling kitchen ideas, it is tempting to focus on the room's finished look, but the functionality, durability, and ease of cleaning the countertop you choose is a priority too. It's important not only that the material suits the look and style of your kitchen, but that it suits your lifestyle too.
KITCHEN CABINETS
Selecting the right cabinet for you comes down to the arrangement of space. The furniture trends propose open space as a solution for the living area; kitchen, dining, and living room area are gathered in a single environment, around which family life takes place. The island also represents a very functional solution where cooking, eating, and socializing take place.
APPLIANCES
Buy furniture and household appliances at the same time in order to choose the right sizes for each other. Don't forget about small appliances: kettle, coffee maker, blender. Plan a place for them because they will also need to be removed somewhere. Smart technology allows for smaller, more conveniently shaped appliances in the kitchen. These products not only look high-end and impressive, but they can also make life a little easier.
PAINT COLOR SCHEME
Natural wood colors, white, cream and gray are the most popular shades of kitchen sets, timeless and fashionable. Often, they are chosen as a base because gourmet cuisine is neutral. More expensive colors also take place in headset or on its individual elements, for example, only the upper or lower cabinets. An original solution would be to paint the end or inner surface of the cabinets. Any variations of blue, green, and warm brown shades are in trend.
IS IT TIME FOR YOUR NEW KITCHEN?
BATHROOM RENOVATIONS
TIME TO EXPLORE YOUR OPTIONS
READY FOR YOUR OASIS?
Modern bathroom design trends turn a functional room into a place for ultimate relaxation in style. The minimalist style, elegant comfort, natural materials that show imperfections are trendy ideas for beautiful, practical, and comfortable bathroom designs. Modern bathrooms vary in design, size, and style, but they are functional, minimalist, and eco-friendly. Artistic touches give character to bathrooms, and natural materials, combined with water-efficient and energy-efficient bathroom fixtures, create Green designs. So, relax, close your eyes, and imagine the bathroom that will bring you balance, harmony and ultimate relaxation.
BATHROOMS OF THE FUTURE
As technological advances continue to grow in our lives, especially when it comes to entertainment, our place of work, now our bathrooms are getting a high-tech upgrade. Bathroom renovations will start to see smart showers, high-tech toilets, automatic sinks, and mini fridges (yes, you heard me, mini fridges). Voice activated features for lighting and temperature, smart mirrors that talk to you, and increased TV installments are just a few other fun trends, but the possibilities are endless. Modern day bathrooms are transforming into personalized day spas, and these technologies make the experience more relaxing and convenient than ever before.
SOAKING TU​BS AND OPEN SHOWERS
We all deserve a place to wind down after a long day, and what better place to do so than your own bathroom? Open showers visually increase the size of your bathroom, while giving you increased shower space. Choose fixtures that contrast to the room's color scheme to make them stand out even more.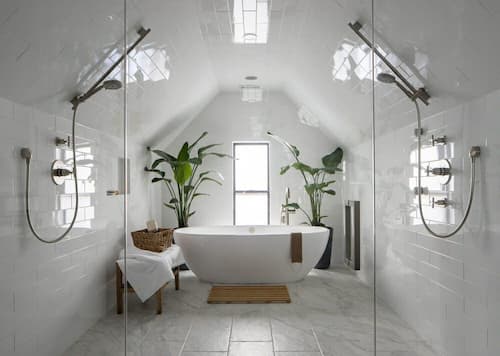 BATHROOM LAYOUT
Designing a bathroom is a rewarding yet challenging project. To bring your vision into focus, take time to assess your needs and wants from this space. A functional bathroom floor plan is one of the keys to creating your oasis. Make sure there is enough storage space to hide the hair dryer and lotions. Thus, non-functional elements are hidden, which provides an orderly and quiet environment.
BATHROOM TILES
Bathroom tiles are moving towards more of an organic feel than in preceding years. Which means natural, tactile materials on walls and floors. Vertical tiles can make a room appear bigger, while detailed and multi-paned tiles add interest to clean and minimal bathrooms.
BASINS
Opt for a freestanding basin instead of standard built-in version to add some character to the space. When paired with tile, it can create an ever more attractive sight. Designs promise to be more organic and oblong-shaped than preceding trends, while it's stylish, sleek, and fits into the smallest of spaces.
NATURAL LIVING
ELEMENTS
Nothing quite emulates the spa experience like biophilic design. This calming design idea is directed to bringing us back into contact with nature. This trend works particularly well in bathrooms and is given increased public interest in sustainability. It's suggested to incorporate bamboo, Chinese evergreen, spider plants, and all types of ferns as plants best suited to the bathroom climate.
LIGHTING DESIGN
A lighting design assists with creating the effect of expanding the space. Light colors and mosaic panels are great ideas. A quality option is illumination with bulbs built into the suspended ceiling. It is also worth providing additional lighting at the vanity and dimmable lighting at the soaking tub to create your calming and relaxing oasis.
PAINT COLOR SCHEME
Firstly, the details are in dark colors. One of the most fashionable colors, solely as an accent in detail, will be black. A matte surface in earthy and neutral tones to add some contrast to the overall color scheme. Beige is one of the classic colors that will never go out of style as it is elegant and very cozy. White usually prevails in bathroom accessories, it can be used to achieve a clean look that contrasts with walls or cabinets.
WHAT ARE YOUR IDEAS?
Whether you're making small upgrades, going for a full overhaul, or just daydreaming, a bathroom renovation can make a significant difference in the feel of your home (and your skin-care routine). So, it's no wonder that along with the kitchen, this practical space often takes top priority when it comes to remodeling. So, what inspires you? Are you ready to create your oasis?